Luxury Poker Tables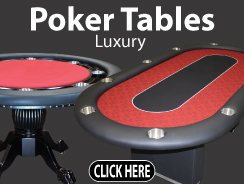 Straight Poker Supplies offers the finest selection of professional grade luxury poker tables available, designed for those among us who are dedicated aces of the game. Is poker more than just a casual hobby of yours? Do you enjoy hosting serious games with highly-skilled players? If you answered yes to these questions, then a run-of-the-mill table just isn't going to cut it. Be proud of your passion with a luxury poker table that is unmatched in quality and functionality.
Our large selection of luxury poker tables ensures that you can find a table that meets your demands, both in quality and in style. Among other features, our products offer dye sublimation casino cloth surfaces, leather finishing, and cup holders so you can enjoy a beverage as you play your way to victory. We also offer a number of colours and shapes, and have themed tables for the sports fans out there.
Ready to get a luxury poker table that matches the quality of your game? Take a look at our selection!
Special Price $1,099.99
Regular Price: $1,500.00
Special Price $1,099.99
Regular Price: $1,500.00