How a Bicycle Playing Card is Made
Friday, April 27, 2018 3:00:49 PM America/Toronto
How Bicycle Playing Cards are Made
Two rolls of pater are laminated together to make card stock material.
Card Stock provides resilience (snap) and durability to the cards as well as eliminating show through from back to face.
Cards are printed so there is one complete deck per sheet
The Bicycle sheets are embossed in the final printing stage. Embossing creates the Air-Cushion Finish that allows for easy shuffling and prevents cards from sticking together.
Sheets are individually cut into strips which are inspected for size, machine marks and any print or paper related defects.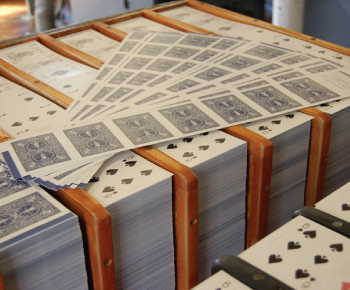 Strips are then taken to the line where they are individually punched into decks, inspected, inserted into tuck cases, cello wrapped and put into cartons.
Want to see more? Check out the YouTube video Below
source : The United States Playing Card Company